Landsbankinn, an ever-smarter bank
Landsbankinn's strategy is entitled "Landsbankinn, an ever-smarter bank". The title is intended to reflect the Bank's vision of continuous development and emphasis on personal banking service in a constantly changing world. Implementation of the strategy began in 2021. The strategy was revised towards the end of 2022 as we had achieved several goals ahead of schedule.
Trust is the Bank's core value, a common thread that runs through the entire operation, connecting customer relations and external partners to internal activities. Customers can trust that we are there to help and that the Bank is confidently managed. This value can be seen in several of our outcomes, including the recognition of Landsbankinn as a model of good governance, our forward-thinking approach, continuous development and emphasis on sustainability. The Bank's financial position is strong and its sound equity position fulfils all regulatory requirements. Performance has been steady and dividend paid regularly since 2013. In the years 2013-2022, the Bank has paid a total dividend of ISK 167 billion to its owners. The Bank's credit rating is BBB with stable outlook.
We are focused on being a positive and dynamic actor in communities throughout Iceland and on promoting future welfare for the country and its inhabitants. The Bank both practices and promotes sustainability. Landsbankinn is among the leading European banks in ESG ratings and has implemented a sustainability policy in its core operations. Credit is extended to projects under the Bank's Sustainable Finance Framework, we offer sustainable savings options, have carbon-offset our operation and know the Bank's carbon footprint. A more detailed overview of sustainable development and the Bank's sustainability policy is provided in another chapter in this Annual & Sustainability Report.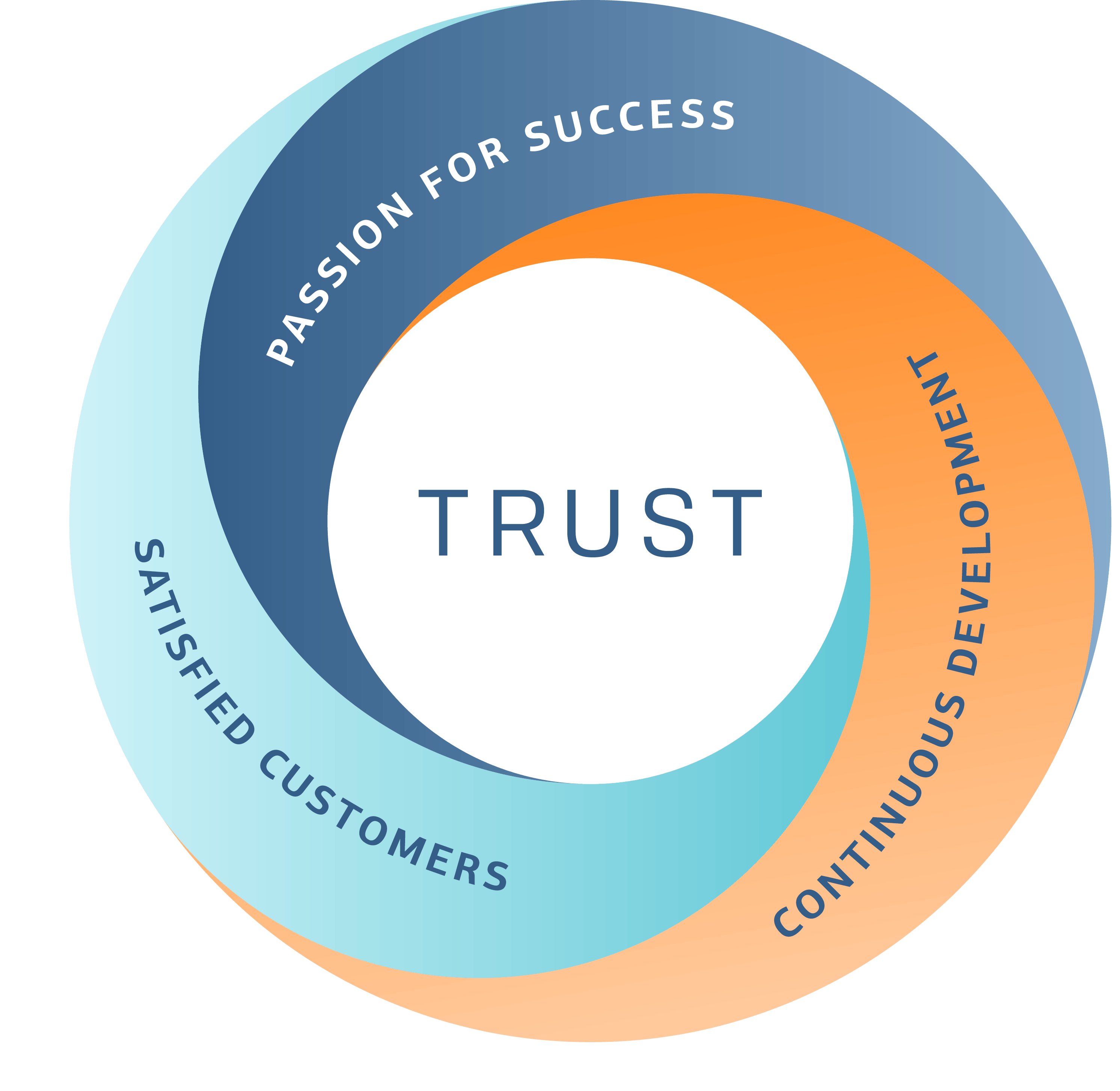 Landsbankinn sponsors several social initiatives and allocates financial grants for neigh on ISK 100 million each year. The Bank's employees are active participants in public debate, contribute to professional coverage of the economy, provide various kinds of financial instruction and published neigh on 60 informative articles and podcasts last year, in addition to their contribution to raising awareness and sharing information about cybersecurity through participation in public debate and in meetings and seminars.
Three pillars
The strategy rests on three pillars that relate variously to customers, the Bank's operation and employees.
Satisfied customers. The first pillar is about simplifying life for customers and also relates to the personal aspect of Landsbankinn's service. We strive to find a way to do even better and successfully respond to challenges. This involves initiative, the mindset behind Landsbankinn, an ever-smarter bank.
The results have not been long in coming - Landsbankinn measures the strongest brand on the banking market and has the most satisfied customers. Our market share is extremely good and is up between years, both in the retail and corporate market. Growing and dynamic corporate finance and corporate markets services further solidify the Bank's status as the main commercial bank to corporates. The Bank's activity in asset management is also growing, both on the professional investor side and for the general public. Landsbankinn is also the biggest lender to the corporate market.
Continuous development. The second pillar supports stable and sound operation. Along with a strong balance sheet, these factors form the foundation for the progress that allows us to grow ever smarter.
The Bank builds on solid technical infrastructure. Great emphasis is placed on robust technical development and digital solutions that prioritise reliability, security and user experience. We are also active participants in the development of the financial system and Landsbankinn is a systematically important institution in the Icelandic financial system.
Passion for success. The third pillar is about employees and creating an environment that fosters exceptional results. Passion for success refers to personal success but also joint success achieved by a positive and solution-oriented team that works across departments to provide exceptional service. Our culture is success-driven, guided by the interests of our customers, society, coworkers and owners. The Bank has adopted guidelines on remote work and flexibility, ensures that employees receive 80% of wages while on parental leave and will in 2023 move to impressive new headquarters at Austurbakki, where the environment is designed to support project-oriented work. Landsbankinn is certainly the workplace of tomorrow.
Clear goals and solid momentum
We are ahead of schedule in our work on key goals set in conjunction with the new strategy in early 2021. In some cases, we've achieved goals we expected to take much longer.
Landsbankinn builds on strong foundations and powerful human resources. This solid base creates opportunities for growth and to develop smart and secure solutions that simplify life for customers. These solutions and the Bank's service depend on a great team of employees that have a passion for success and are ready to work hard to find new ways to meet challenges and rapid changes.
That's Landsbankinn, an ever-smarter bank.
Cookies
By clicking "Allow All", you agree to the use of cookies to enhance website functionality, analyse website usage and assist with marketing.